Description
A new PLAY COLOR for drawing thin and thick lines. Double tip and water-based ink.
A new series of long-selling water-based ink markers "PLAY COLOR" featuring slimmer tips. The ultra-fine tip paired with bold one to allow drawing various lines. Refreshed color lineup with 12 new shades ♪
Handy double tip marker
Double tip marker featuring ultrafine 0.3mm tip of 0.3 mm diameter and 0.8mm bold tip. A new durable tip with 40% improvement in durability! It will keep drawing perfectly even lines even after many uses. (Compared with previous version of the product)
12 new vivid colors
12 new popular colors added to the range.
Available in 36 colors
The 36 colors include popular shades of pink and blue. Enjoy choosing colors according to your mood.
Take neat notes!
The 0.3mm ultrafine tip can write small letters clearly! Organize your notes neatly using different line widths ♪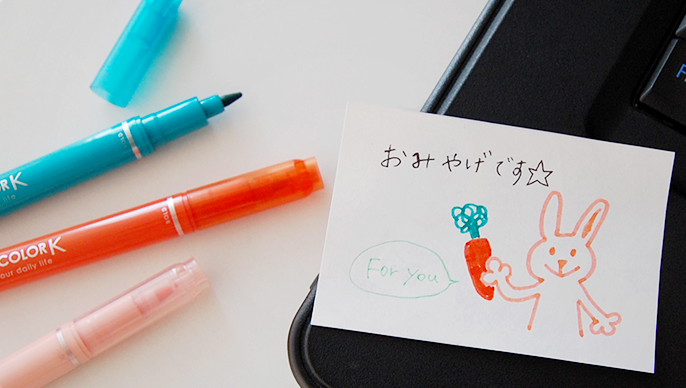 Draw pictures easily!
The new durable tip makes drawing easy. Ultra-durable tip to ensure clean lines for a long time.
Great for coloring!
The 36 colors range great for creating colorful pictures ♪
Precaution for Use
· Put the cap back after every use.
· The ink may leak or spill if shaken hard, dropped, or given a strong shock.
【! CAUTION】
· Keep it out of the reach of small children.
· Do not use it for purposes other than writing and drawing.